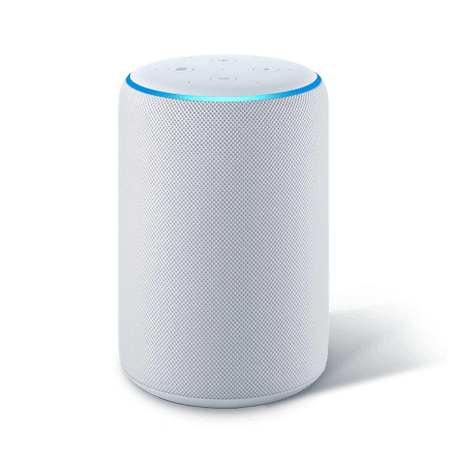 Deutsche Familienversicherung
The first digitized insurer
Our digital world - service-oriented anytime, anywhere.
No need to print anything. No need to put anything in an envelope. Or stamp it. Or take it to the postbox. An email address is everything you need to manage your insurance policies without a scrap of paper. Deutsche Familienversicherung has shown how digitalisation can make life easier for our customers. We offer a broad-ranging digital service offering easily understandable advice, financial statements, document management and claims handling.

[]
That's how insurance works in

Amazon Echo and Google Home
Amazon Echo is already part of our fully digital consulting. Google Home is coming soon. Talk to your language assistant about the German family insurance and you will receive comprehensive information on products and tariffs.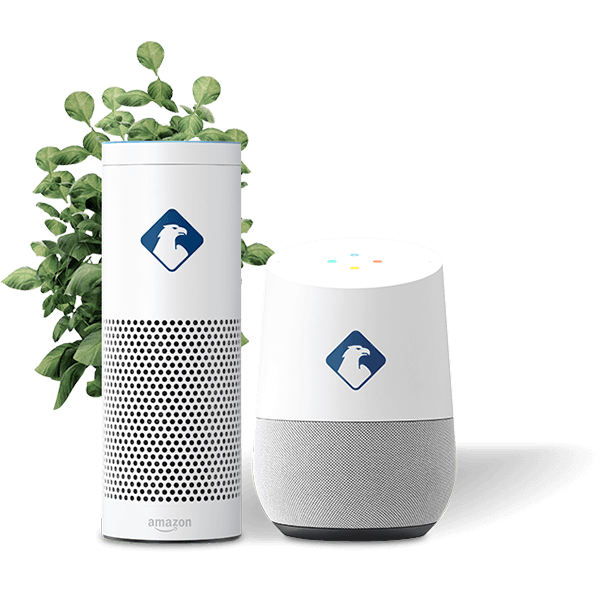 Amazon Pay and PayPal
We work with both Amazon Pay and PayPal. Simply link your Amazon or Paypal account during your DFV online application, which is a process that can be completed within approximately two minutes. It's simple. It's sensible. And it saves you time!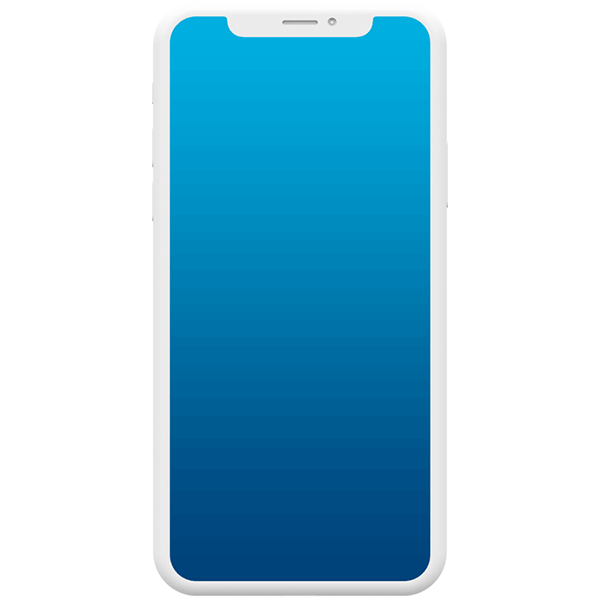 The DFV customer portal.
Policy holders can simply log into the DFV customer portal using their personal access data. They'll easily find everything they need, without any sign of paper. They'll have their own digital insurance certificate (e-policy) and have full access to all our service and administration functions and tools. They can view documents and make use of the DFV fast claim service. As well as that, they will receive their insurance certificate as a digital wallet file for their smartphone, so they always have it with them, at any time and anywhere.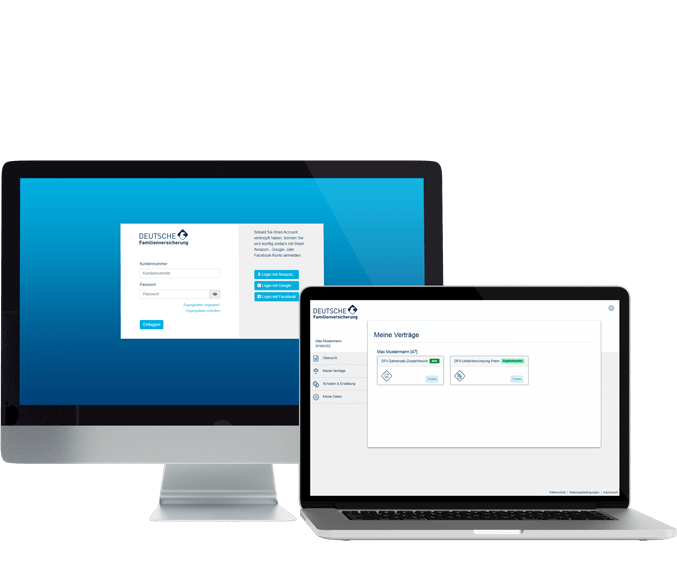 The DFV app.
With our sophisticated DVF app we offer extra added value. The app provides a convenient, compact overview of your current policies, your personal data and our DFV range of insurance policies.
From within the DFV app, you can even adjust your insurance coverage daily. So you quickly react to changing circumstances and easily insure family, friends and acquaintances on a situation by situation basis. The DFV app is a mirror of the DFV customer portal in that all the service functions relating to your insurance cover, including administration, claims handling, tariff changes and our 24 hour chat service, are easily accessible and available at anytime, anywhere, and totally mobile.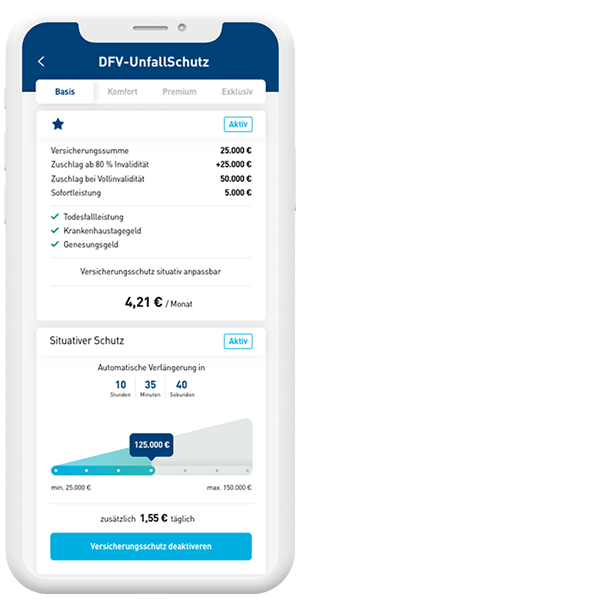 The DFV fast claim service.
We don't just look better than our competition, have the best and most simple insurance policies on the market, and are way more digital than they are, but when things get serious and you need our support, we also work better.
In our digital world you won't have to wait long to get repaid. When you need it most, you get the benefit of our DFV fast claim service both in the DFV customer portal and the DFV app. It's this easy:
Upload a photo/scan of the receipt.
Describe the insured event.
Receive your money within 48 hours.
If you ever need any further help, you can simply contact our service centre by phone, e-mail or of course, via our 24-hour chat. Our DFV digitalisation process works in two ways: simple and sensible. And that's what we call customer oriented service.
Numbers, data, facts and details.
As the first digitalised insurer and the only fully functioning Insurtech, Deutsche Familienversicherung can proudly look at over 420,000 contracts, 100 employees and a nominal value of over €72 million.
As a direct insurer, we have become a serious player amongst German insurance companies. The development of innovative, digital solutions for dental, health and supplementary care insurance is our core competency, and has been the foundation of our success since our foundation. And we've recently added high-performance property insurance to the Deutsche Familienversicherung product portfolio.
Digitalisation is most effective when it's focussed on customer orientation, which at the same time demands maximum transparency.
Deutsche Familienversicherung is an owner-managed, direct insurer, characterised by operational stability and long term future viability. Our growth and customer base is the best evidence of our success, and our numbers speak for themselves.
Our founder and board of directors - always accessible.
We don't have an anonymous board of directors. Quite the contrary. It's just another of the quirks of being an owner managed insurance company.
Our CEO, Dr. Ing. Stefan M. Knoll, founded Deutsche Familienversicherung and bears responsibility for the integrity of the company and the quality of its insurance products. As an experienced entrepreneur, he is leading the company into an exciting new future.
His top priority has been to focus on the digitalisation process, and this has helped make the company the digital market leader in the German direct insurance industry. Deutsche Familienversicherung is exactly the sort of insurance company he was always looking for but could never find.
Michael Morgenstern is our Chief Financial Officer and most recently worked as the CFO of reinsurer, General Re. Stephan Schinneburg, our Managing Sales Director, was on the board of Ergo Versicherung, before stepping up to his position at Deutsche Familienversicherung in May 2018.
The Executive Management Committee is completed by Marcus Wollny, who is responsible for the Operational Management.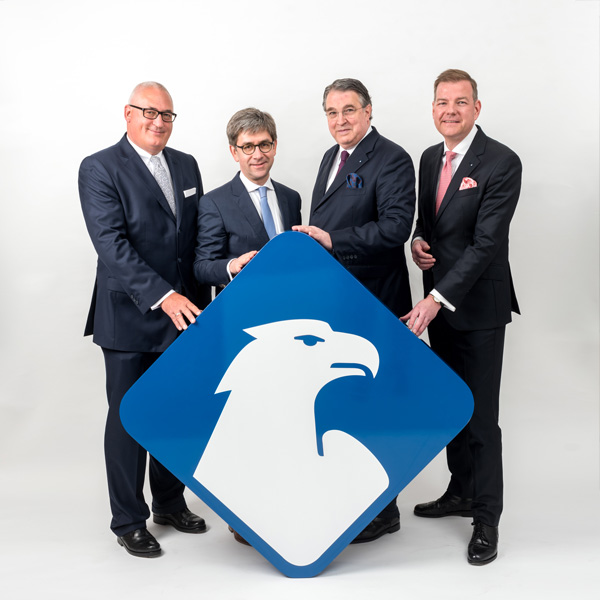 Our commitment - entrepreneurship requires responsibility.
Social engagement is integral to our corporate culture. It's why Deutsche Familienversicherung works mainly with a variety of regional partners.
Eintracht Frankfurt
Since 2010, as a Frankfurt based company, we've naturally been one of Eintracht Frankfurt's most committed partners. And from the 2011/2012 season, Deutsche Familienversicherung has also been a partner of Eintracht Frankfurt e.V. helping to support local youth activities and sporting activities throughout the Rhine-Main region. The cooperation was extended by a premium partnership in 2018.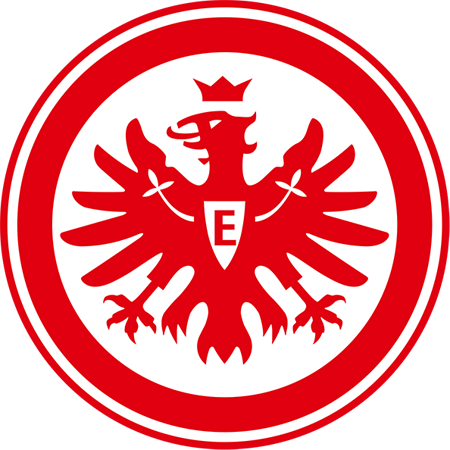 Frankfurter Skyliners
In February 2017, Deutsche Familienversicherung became an official junior partner of the Basketball Bundesliga Club, the FRAPORT SKYLINERS. As a Frankfurt based, owner-managed insurance company, our partnership with the owner-managed, Fraport Skyliners is a connection close to our hearts.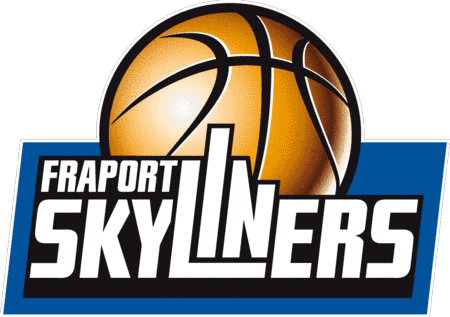 Supporting membership "Städelscher Museums-Verein e.V." (Städel Museum Association)
Our commitment to Frankfurt's cultural institutions is also an important part of our social commitment: Since 2019, the Deutsche Familienversicherung has been a sponsoring member of the Städelscher Museums-Verein e.V. We contribute to the preservation and further development of the Frankfurt museum landscape.